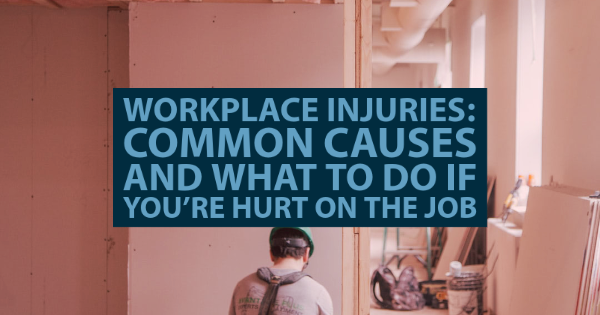 WORKPLACE INJURIES: COMMON CAUSES AND WHAT TO DO IF YOU'RE HURT ON THE JOB
---
Most of us probably believe we're safe at work. But according to the National Safety Council, an employee is injured on the job every seven seconds. Whether or not you work in a hazardous field, there's a high potential for employee harm -- particularly if employers don't do their due diligence.
If you're injured at work and your employer is found to be at fault in some way for your injuries, you'll want to talk to a workers comp attorney Omaha residents can trust. But what are some of the most popular reasons for hiring a lawyer in these cases? To lower your risk of an on-the-job accident and to better understand just how prevalent these incidents are, we're taking a closer look at some of the most common workplace injuries and how they occur.
CAUSES OF THE MOST COMMON WORKPLACE INJURIES
OVEREXERTION INJURIES
It might surprise you to learn that a substantial portion of work injuries aren't due to employer negligence or preventable accidents. The National Safety Council reports that 33.5% of workplace injuries are related to overexertion or overuse. Repetitive motions or behaviors like lifting, pushing, carrying, pulling, throwing, and lowering can often result in these types of injuries.
SLIP AND FALL INJURIES
The National Floor Safety Institute reports that slips and falls are the leading cause of workers' compensation claims. They're also the primary cause of occupational injury for workers over the age of 55, but younger workers can also be seriously hurt in this manner. Whether due to a wet floor, misplaced objects and debris, faulty equipment, or a fall from an elevated area, these workplace incidents can result in anything from broken bones and sprains to nerve damage and traumatic brain injuries (TBIs).
CONTACT INJURIES
Injuries that result from contact with equipment or objects are the third leading cause of non-fatal injuries involving days away from work, according to the National Safety Council. These injuries are also the fourth leading cause of workplace fatalities. Contact injuries occur when a worker is harmed by work equipment or objects found on the job site. For example, if a worker is struck by a moving or falling object, crushed or squeezed by equipment, or caught under a collapsing structure, their subsequent injuries would fall under this category. The majority of contact injuries occur in the upper extremities (mostly in the hands), but the lower extremities (like the feet and legs) and the head can also become injured.
Of course, these are far from the only incidents on the job that can result in common workplace injuries. Vehicle accidents and even workplace violence can also cause serious injuries that will require immediate medical attention.
To that end, seeking out medical care is the first thing you should do after becoming injured at work. But in these aforementioned examples, your next step should be to officially report the incident and contact an experienced lawyer. While not every situation may not necessitate going to court, it's important that your rights are protected during this time.
If you do file a workers' compensation claim or personal injury claim, you'll want to work with an attorney to ensure the process goes smoothly. Although no one can guarantee a certain outcome, having legal representation will provide you with the counsel you need to move forward following your workplace accident.
For more information or to schedule a consultation, please contact our offices today.